Are you looking for a solution to slim your waistline?Shapewear and waist trainers are the most popular now.There are many different kinds of waist trainer and shapewear in the market.How to understand the difference between shapewear and waist trainer?In this article,we distinguish between these two through comparing the features and benefits.
Waist trainer is a high compression shaper garment that we wear around midsection to reduce waist size quickly and effectively.Waist trainer benefits include a more effective fitness,hourglass body shaping instantly,improved posture and back support.The main features are as follows.
Waist Trainer with Steel Bones
Waist trainer with metal boning is strong and sturdy enough to shape your figure and actually molds to your body shape over time.It is a girdle to wrap your waist and push your lower abdomen muscles in.As a result,your tummy looks flatter and your waist looks slimmer.
The fashion waist trainer are mostly made from a combination of thick fabric such as elactic spandex,latex,neoprene and cotton.You can wear either on the skin itself or over a thin tank top.
These such comforable and skinfriendly waist trainer allow your to stetch while workout without compromising your capacity to move around or breathe properly.
3.Waist trainers help lose weight during workout
Waist trainers used for exercising provide higher or stronger compression to help increase sweating in the midsection.Doing targeted waist movements to help shape the abdomen region better and faster.
Shapewear is body shaper underwear.Women from all walks of life,with a variety of figures,can enjoy wearing the clothes they love with the help of shapewear.Many women,specially after childbirth,your body will show signs of delivery.Shapewear is committed to helping you look your best.The main features are as follows.
1.Invisible shapewear wear underneath of your thigt jeans or dresses
Shapewear is more comfortable and more easy to wear.Modern shapwear can be worn under any outfits from morning until nigh,while working,exercising or relaxing.
2.Different styles of women shapewear to help you refresh your whole look
You can find many types of shapewear,includinghigh wasit shapewear pantites,shapewear thong,shaper shorts,thigh shaper,mid-thigh shaper and full body shaper.Having the right shapewear can help you rediscouver the clothes you already have.
3.An excellent way of getting the figure you want
Wearinghigh wasit shapewear panties will help you reduce your waistline, slim thigh and butt lifter.Wearing hip and butt pads panties will help you butt enhancer and get curvy body.Full body shapewear bodysuit is great for creating hourglass body,it helps you enhancer your bust,slim waist ,slim leg and push up buttock.Shapewear will make all your clothes fit better.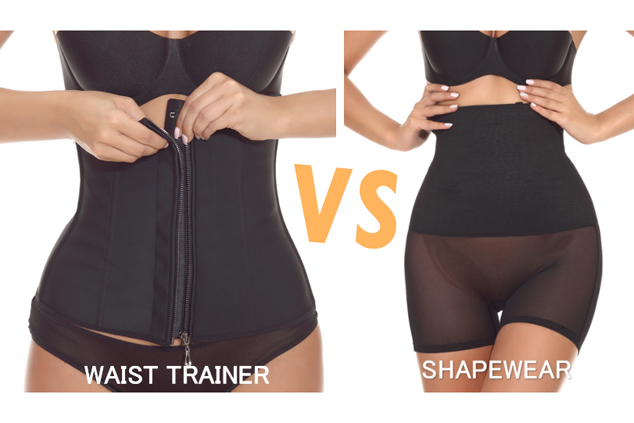 Have you ever tried wearing waist trainer and shapewear?Share your experience in the comments below.
#shapewearpanties #waisttrainer